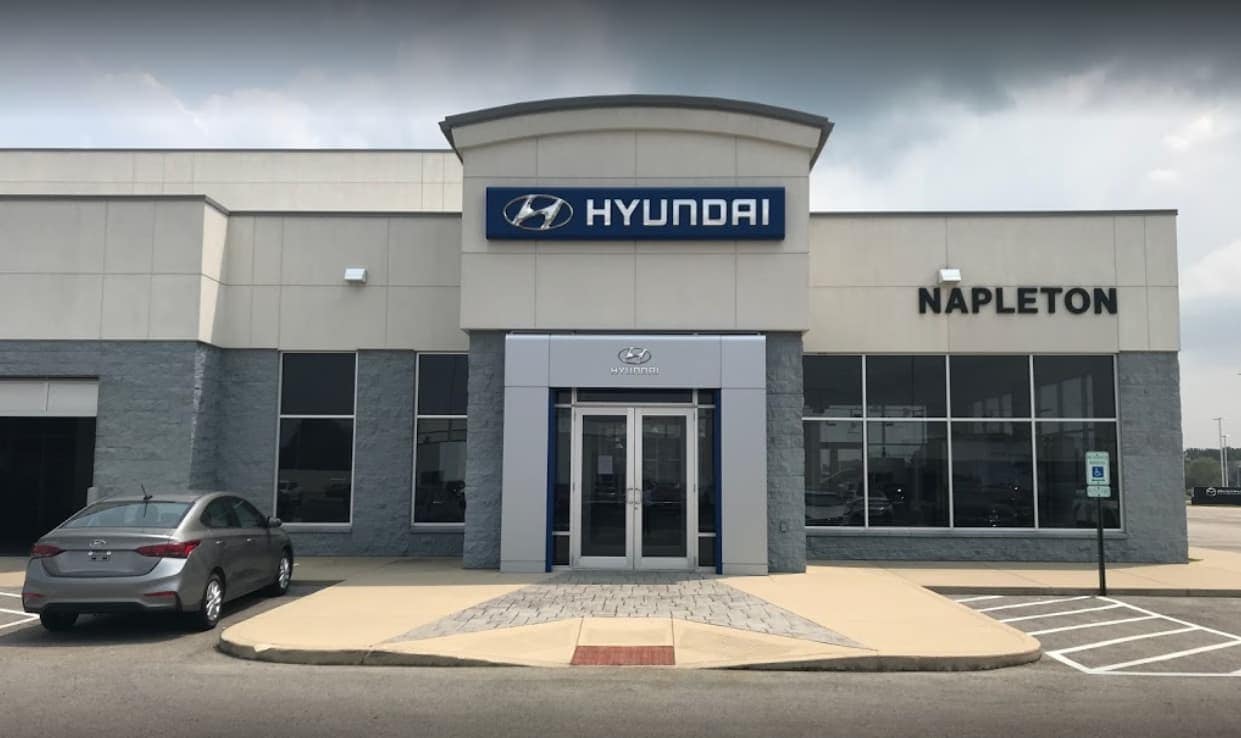 Hyundai Dealership Located In Urbana, IL
Napleton's Hyundai of Urbana proudly serves drivers like you, from Danville to Champaign, Springfield, Decatur, Mahomet, Monticello, and everywhere in between!
If you're in the market for a new or used car, you've come to the right place. The staff at Napleton's Hyundai of Urbana is committed to helping you find the right vehicle for your needs. What's more, they're also dedicated to helping you maintain it long after you drive it home for the first time.
So where do we begin? Most like to take a look at the latest Hyundai models to hit our showroom, including the Hyundai Elantra, Hyundai Sonata, Hyundai Santa Fe, Hyundai Palisade, and more.
Those looking for used cars are in luck. Napleton's Hyundai of Urbana has an enormous used car inventory with vehicles from numerous manufacturers.
Of course, whether you choose new or used, Napleton's Hyundai of Urbana staffs a team of expert auto finance specialists who can help you find the right loan or lease for your needs. From start to finish, we're by your side to make the buying process as easy as possible.
And after you've purchased your next vehicle, Napleton's Hyundai of Urbana doesn't go anywhere. Instead, we continue to support you with an onsite service department, which operates using only certified Hyundai parts - a combination that's sure to result in many worry-free miles in your vehicle's future.
Whatever your automotive needs may be, Napleton's Hyundai of Urbana is here to serve you. Located at 1101 Napleton Way, in Urbana, Illinois, we're a quick drive away from the surrounding Danville, Champaign, Mahomet and Monticello areas. Come see what we can do for you today.
Hyundai FAQ:
10 Frequently Asked Questions About Hyundai
Napleton's Hyundai of Urbana is your local Champaign-Urbana, IL Hyundai car dealership. Get directions and shop great deals on new and used Hyundai vehicles.
Hyundai vehicles are some of the most reliable and affordable cars on the roads today, constantly winning awards in categories such as Safety and Reliability. Not only that, but Hyundai also offers America's Best Warranty to give you the ultimate peace of mind.
Hyundai's luxury car brand is Genesis. However, the Hyundai model lineup offers a wide variety of vehicles with many luxury features and qualities.
The largest vehicle in the Hyundai lineup is the Hyundai Palisade. The Palisade is an 8-passenger, three-row SUV.
The Hyundai Accent is the smallest car in the Hyundai lineup. The Accent is an affordable, fuel-efficient subcompact sedan.
Hyundai Motor Group owns Genesis, Hyundai, and Kia.
Hyundai is a South Korean based company, but over half the cars we sell in the U.S. are made in the U.S. Hyundai has a manufacturing facility in Montgomery, Alabama, engineering facilities in Michigan, plus design, research, and testing grounds in California.
The Hyundai Motor Company was founded in 1967 and has continued to grow and evolve since.
Showroom Hours
Monday

9:00am - 8:00pm

Tuesday

9:00am - 8:00pm

Wednesday

9:00am - 8:00pm

Thursday

9:00am - 8:00pm

Friday

9:00am - 8:00pm

Saturday

9:00am - 6:00pm

Sunday

Closed